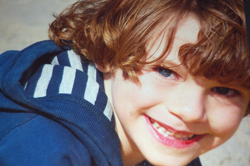 I fell asleep, my neck felt better after.
Kean S
10 years old
I brought my daughter, who was 9 years old to Janice because we couldn't find what was wrong with her. We
had been to the hospital and urgent care but tests produced no results. She was suffering pain throughout
her body.

Janice suggested we use both Reflexology and EFT to help her. And the results were amazing. She left the
office feeling elated and 99.99% pain free. She worked through difficult issues about divorce and her absent father
and she asked to return for another session to work through some other issues she was having with school, her teachers, friends, and grandparents.

She has been pain free pretty much ever since and emotionally she is in a much better place. She has said that
dealing with her father is much easier now. I am so happy to have helped my daughter to this level, and feel relieved and blessed
to know Janice is there if she ever needs her. My daughter has even started to use EFT for herself as a life
tool, when stressed! She recently helped calm her nerves at a swim meet and after a nightmare, how fantastic!

Anyone with children that need support, please consider Janice Robinson, she is a lovely person and a gifted healer. She is kind, caring, non-judgemental, and extremely helpful!

This from Aliza...

Janice is Awesome, and is very, very kind! She makes you so relaxed, and the tapping works, it makes you feel nice inside that you are finally getting stuff out! When you walk in her office you know you are entering a nice safe place! She helped me work things out but didn't hurt me! She is defineately amazing!!

Pam
I loved it, it was relaxing and I felt like one heart beat through my whole body.
Sasha B
12 years old
Our son had been receiving occupational and physical therapy for 5 years and was slowly weaned from the therapy as he became more capable in dealing with his sensory integration disorder. He has not gone to either OT or PT regularly for 2 years. Recently we noticed our son with more anxiety, disturbed sleeping, and difficulty with swallowing. When I talked with his occupational therapist, she recommended trying Janice Robinson for Reflexology. Janice used Reflexology and also EFT (tapping) on our son. He had 3 sessions in 2 weeks and the change was amazing! He is much more relaxed, in general, and does not have difficulty in falling asleep and his sleep is much deeper and longer. He is ableto eat solid food without choking and he finishes his meals with the rest of the family. Smaller bad habits and health concerns are vastly improved as well. We are so happy with our son's progress that my husband and I are going to try Reflexology for our needs as well! We are thankful for Janice and Reflexology!
Martha
I wrote and asked 9 months later how this client was doing:

His mother replied:

'Our boy B---- is growing well both mentally and physically, symptoms we came for are still not resurfacing.'